The top stag and hen party cities in Europe
Travelling abroad for your stag or hen party can be a great idea. It will give you a memory you'll never forget, allow you to experience somewhere new, and - most importantly - can be an incredible amount of fun!
How to plan your stag do or hen party
Your stag do or hen party is supposed to be the last big hurrah of your single life, and you want to make sure it's special. Sure, you could go to your local pub for a few drinks, but can that really compare with sunny Spain or a cultured experience in France? Travelling ensures your stag or hen weekend is a once-in-a-lifetime experience, which in our opinion is how it should be. With these important tips, we are sure you'll have an amazing stag do or hen party:
Prepare the list of people wanted on the party.
Set a budget everyone can afford.
Pick a date and book flight tickets and hotel in advance.
Have an itinerary ready before getting to your destination.
Most essential thing: Have fun!
Stag or hen party on a budget
So, where should you go? Well, one thing to bear in mind is budget. Although you might be surprised by how much your mates are willing to spend, with the average stag do costing £191 per person and the average hen spending £153 each. That's more than enough to get you to Europe for a weekend!
There are loads of great options on the continent as well. Prague, for example, has a reputation for some of the best nightlife in the world, with clubs open all night and booze that costs as little as £1 per half litre. It's also great for hearty food and exciting experiences, while being an amazingly cheap option.
The best cities for a stag/hen party
If you'd rather have something less raucous, why not give Paris a go? The romantic city of love is also the city of wine, cheese and fine dining, with plenty of shopping and fashion options if that's your cup of tea. Brush up on your French and celebrate your last days of being single with a trip up the Eiffel Tower for a getaway to remember.
Alternatively, you could choose Barcelona, one of the world's top destinations for stag and hen parties. Keep reading to discover the most popular locations for stag do and hen parties!
---

---
Top 10 stag weekend destinations
---

---
Top 10 hen weekend destinations
Choosing where to go for your stag/hen party
You've got so many choices that it can be hard to pick a destination, so it's worth thinking about the style of stag or hen do you're looking for. Are you more about experiences, or is a great night out the most important thing for you? Are you willing to pay a bit extra, or stick within a strict budget?
To help you out, we've created this infographic for you highlighting four of our favourite cities in Europe for stag and hen dos. This should help you work out what will be best for you and your friends, and make sure you have a party you'll never forget.
---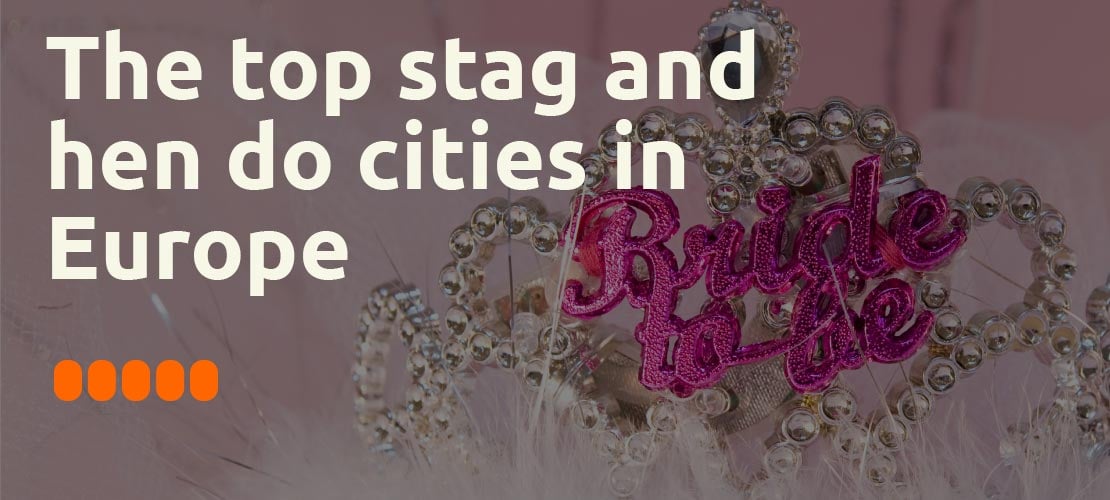 Discover Infographic
---
Book your ideal holidays
Find top flight deals